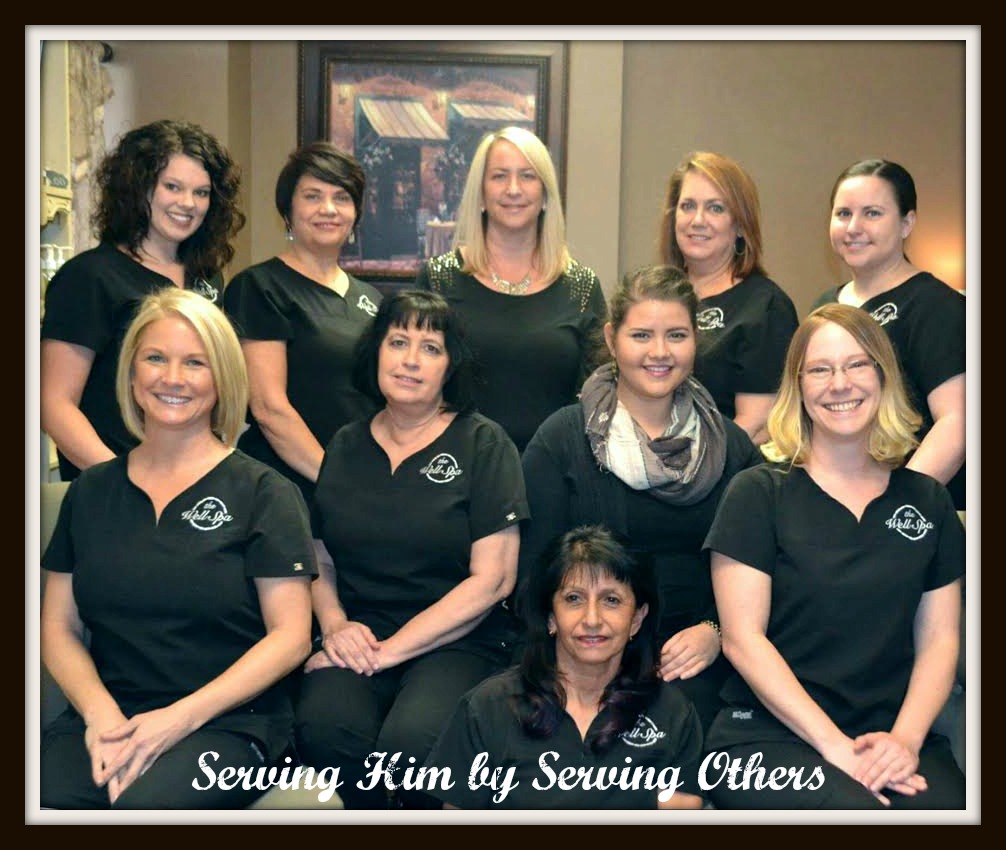 ~My name is Maxine Leeper and I am a licensed and nationally certified massage therapist as well as a licensed esthetician. I feel that the blending of different massage techniques creates a massage that can be adjusted to the needs of each individual. As an esthetician, combining skin care, body treatments and massage helps to restore health and a sense of well being.
I and my husband, Jess, are the proud parents of 9 children. We have always been involved in church activities and enjoy outdoor walks along with spending time with family and friends. My other interests include cooking, crafting, sewing and gardening.
~My name is Amber Barton and I am a licensed massage therapist. I graduated from Professional Massage Training Center in Springfield, MO where I was trained in clinical and relaxation techniques. I am passionate about providing consistent, exceptional massage therapy treatments for each individual. By using a clinical approach, such as neuromuscular therapy, I feel that precision and accuracy can be achieved to support health as well as provide pain management and relief.
Personally, I am the wife of my amazing husband, Jon, and the mom of Jordan. We enjoy serving at our church and spending time outdoors in the Ozarks. In my spare time, I can usually be found at home cooking, crafting and enjoying everyday life. It is such a blessing to have the opportunity to serve the Nixa community through massage therapy.
~My name is Lydia Zapalowski and I am a licensed massage therapist with a background as a physical therapy assistant. My passion is therapeutic massage including helping athletes improve sports performance with a special interest in helping golfers.
Personally, I am the mother of 4 wonderful kids and adoring grandmother of 3 grandbabies. I love the outdoors and spend time hiking and kayaking.
~My name is Deanna Viebrock. I'm a registered nurse and have worked in the healthcare industry for over 25 years. My passion is assisting people achieve their most youthful, natural beauty and working towards feeling healthy and vibrant. My pursuit of quality training has taken me across the United States and I have had the privilege of learning from some of the most experienced professionals in this industry. I offer permanent makeup, Lamprobe small lesion removal, micro needling, dermaplaning and waxing services.
On a personal note, I have lived in Missouri most of my life and married my high school sweetheart, Jeff. Together, we enjoy spending time with our 3 kids and with our grandson.
~My name is Elisha Logsdon and I have been a Licensed Massage Therapist since 2007. I studied massage at The Healing Arts Center in St. Louis where I learned many healing techniques and modalities. My specialty is Therapeutic massage using a combination of these techniques. I also love helping to relieve stress and tension for those who are seeking relaxation. Massage has become a passion for me as I have learned more about natural healing practices and the importance of preventative care.
I am a follower of Christ, a lover of people, a Minister's wife and a mother to an amazing little boy. I enjoy learning about health and nutrition, being outdoors, creating, traveling, cooking and, most of all, I love spending time with those I love. It is my hope and intention that each person I am given the opportunity to work with receives a massage customized for their needs and walks away wearing a smile.
~My name is Robyn Sterner and I am a Licensed Massage Therapist. I received a 900 hour program from Professional Massage Training Center in Springfield, MO. I am trained in clinical and spa forms of massage therapy including table thai and reflexology. I enjoy creating a unique experience by employing different techniques to best suit each of my guest's needs.
My motivation to do massage therapy comes from my caring nature. I value true wisdom and I enjoy hearing stories of life experiences. I value the knowledge people share about natural ways to improve health. I am passionate about improving the lives of animals, and making a positive difference in our environment. I love seeing stunning places in nature that are not man-made.
~My name is Nina Martinez and I'm a License Massage Therapist in Missouri. I'm a strong proponent of therapeutic massage for everyone regardless of their life style. Massage is just as important as food or sleep as we use our bodies everyday. My formal education in massage began at Professional Massage Training Center in Springfield. I graduated in 2006 and have had exposure and training in many areas of massage including swedish/spa techniques & services, chiropractic massage and cupping.
On a personal note, I love what I do, my heart has been bent on helping others ever since I can remember. My personal life is a reflection of my faith In Jesus.
~My name is Alaina McCauley and I am a licensed massage therapist. I am proud to practice here in Nixa where it still has the feel of a small town community. I graduated from School of Massage Arts and furthered my training in neuromuscular massage therapy. I feel led in the direction of pain management/relief. Neuromuscular therapy is a specific and scientific approach to muscular pain relief that will help to bring about balance between the musculoskeletal system and the nervous system.
On a personal note...First and foremost, I am a Christian. I am married to my best friend, Randy, who is an awesome leader for our family. We enjoy the outdoors with camping, hiking, biking and gardening. As is the case with most families, we are busy with kids' sports and our first grandbaby. Feel free to say "Hi" to us should you see us out and about!
Massage, skin care and body treatments are truly gifts worth giving! With each of us having a servant's heart, these services fit perfectly with our personalities. It is such a blessing to help relieve pain, to reduce the effects of stress and anxiety, to restore/improve range of motion and to improve the overall health through the gift of therapeutic massage as well as helping people meet their skin care needs naturally.
Thank you for taking the time to learn a little bit about us. We look forward to the privilege of serving you and learning about you as well.
Sincerely,
Maxine, Amber, Lydia, Deanna, Elisha, Robyn, Nina, Alaina, Gretchen and AnaLisa